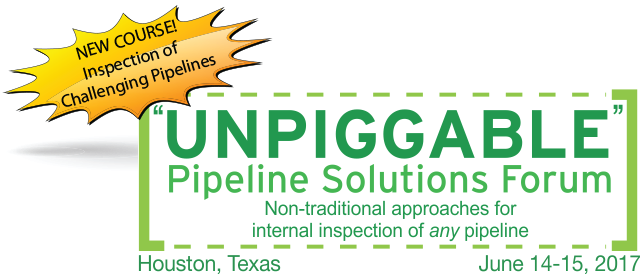 Inspection of Challenging Pipelines


June 12-13, 2017
June 12
7:30am
Registration & coffee
8:00am-5:00pm
Course
June 13
8:00am-5:00pm
Course
The course will provide an in-depth introduction into the inspection of challenging pipelines, i.e.  pipelines that cannot be inspected in a straightforward manner using traditional free- swimming in-line inspection tools. The course will introduce typical flaws and anomalies found in challenging assets, including a wide range of metal-loss and crack features. Assets covered in the course include difficult-to-inspect onshore and offshore pipelines in the up-, mid- and downstream sector, including gathering and distribution lines, loading lines, storage lines, risers, flexible pipe and risers, laterals. The course includes an introduction of all relevant inspection technologies and related non-destructive testing principles as well as operational procedures, data analysis and reporting.
WHO SHOULD ATTEND
Pipeline Engineers, Integrity Engineers, Corrosion Specialists, Engineering Consultants in the field of pipeline inspection and integrity, personnel from regulators or certifiers involved with pipeline inspection and assessment.
Course Objective
Approximately 40% of all pipelines installed globally are considered "un-piggable," which means they cannot be inspected with traditional free-swimming in-line inspection tools.
However these other lines also have to be inspected to investigate whether there are geometric, metal-loss or crack-related issues that would affect their mechanical integrity. Many of these challenging lines can be inspected from within, i.e. using specially designed or modified tools. Some, however, will have to be inspected from the outside because internal inspection is not possible at all.
The important questions relating to the inspection of Challenging Pipelines are:
Accessibility:how can the line be accessed and how can an inspection device be introduced into the line?
Negotiability:this relates to either operational challenges such as high flow and high pressure or low flow and low pressure during the inspection. It also relates to issues such as bends, diameter variations and other issues relating to the design or the operation of the pipeline.
Propulsion:How is the tool moved through the line? Can it be pumped, is a cable or tether needed or maybe even a robotic approach?
All this will be covered in order for the partcipants to fully understand the difference between "piggable" and "unpiggable" pipelines. The objective of the course is to build this understanding and provide an awareness of a wide range of solutions available on the market.
CEUs
On completion of the course, participants will be awarded 1.2 CEUs.
Documentation
All delegates will receive a detailed set of lecture notes totaling more than 400 pages, providing an invaluable reference document.
Lecturers
Dr. Michael Beller
has more than 28 years' experience in the pipeline inspection industry. Having served in both technical and management positions with Preussag Pipeline Services, Pipetronix, PII and NDT Systems & Services, he is currently Director of Corporate Strategy - Pipelines with Rosen Technology & Research Center in Karlsruhe, Germany. Michael holds a master's degree in mechanical engineering, and obtained his PhD in fracture mechanics. He has been involved with a large number of inspection projects all around the world, including on- and offshore inspection work. Michael has considerable experience as a presenter and trainer, and in lecturing. He has authored more than 75 papers on the subject of pipeline inspection and intelligent pigging, and is also co-author of a German reference book on pigging technology. Currently, Michael serves on a number of Technical Committees and is also a member of the editorial board of
The Journal of Pipeline Integrity
. He is a former president of the Pipeline Products and Services Association.
Dr. Konrad Reber
studied physics and material science at the University of Mainz and Erlangen. For his Ph.D. thesis he worked on stray flux methods for the testing of magnetic materials. At Pipetronix he was responsible for the development of data analysis algorithms and the design of MFL-pigs. After moving to NDT Systems & Services AG in 2000, his focus changed to defect assessment and integrity management. Between 2006 and 2008 Konrad was with TÜV Rheinland as an expert within the Pipeline Technology Group. Since 2008 he has been head of research and development for the Innospection Group. His department is responsible for designing new inspection equipment for the oil and gas industry. His focus is on the development and refinement of testing technologies with applications for underwater and otherwise difficult-to-inspect structures.
---
Syllabus
Day 1
Understanding the asset "Challenging Pipelines"
Onshore pipelines
Offshore pipelines
Special types: risers, flexible pipes and risers, loading lines, cladded and lined pipelines, storage lines, laterals
Challenging Pipeline Inspections
Differences between traditional in-line inspection and inspection of challenging pipelines
Overview: internal inspection issues

Accessibility
Negotiability
Propulsion

Overview: external inspection issues
Typical Defects and Threats
Geometric anomalies
Metal Loss
Cracks and crack-like flaws
Leaks
Other failure mechanisms
Visual Inspection and Profiling
Imaging
Laser
Shearography
White Light
Mechanical probes
Inspection Technologies: Ultrasound (UT) Part 1
Understanding the physical principle
Piezo-Electric UT vs. EMAT
Wall Thickness Measurement
Inspection Technologies: Ultrasound (UT) Part 2
Crack inspection with UT
Strength and weaknesses of UT
Day 2
Inspection Technologies: Electromagnetic Technologies
Understanding the physical principle of MFL
Axial and circumferential MFL
Eddy current technologies (standard EC, remote field EC, PEC (pulsed eddy current), MEC/SLOFEC)

Current and magnetic bias eddy current


Current and magnetic bias eddy current
Strength and weaknesses of MFL and EC
Internal Inspection of Challenging Pipelines
Speciality free swimming tools
Tethered inspection tools
Robotic internal inspection tools
Operational considerations: accessibility, negotiability, propulsion
Case studies
External Inspection of Challenging Pipelines
Range of inspection devices available
General deployment
Special issues relating to subsea deployment
ROV and AUV
Preparation and job execution
Case studies
Report: Internal Inspection Solutions
Explaining typical content of final reports
Data analysis process
Report creation
Reporting options
Data quality
Comparisons
Link to integrity assessment
Report: External Inspection Solutions
Explaining typical content of final reports
Data analysis process
Report creation
Reporting options
Data quality
Comparisons
Differences between internal and external inspection reporting
Link to integrity assessment
---