Fracture Mechanics for Pipeline Engineers
Led by Dr. Ted Anderson
June 25-26, 2019: Houston
Day 1
7:30am
Registration & coffee
8:00am-5:00pm
Course
Day 2
8:00am-5:00pm
Course
Participate online via our state-of-the-art video conferencing technology
Cracks and other planar anomalies, pose a significant risk to pipeline integrity. This course will arm attendees with both the knowledge and the tools necessary to apply the latest technology to this serious threat. The focus is on the practical application of modern fracture mechanics and flaw assessment methods and models to pipeline integrity. All attendees will receive a suite of Excel-based tools for burst-pressure prediction, rainflow cycle counting, and pressure cycle fatigue analysis. A workshop format will allow attendees to use this suite of tools on a series of practical problems – case studies will be presented and worked in order to apply the learnings and tools directly to attendees' pipeline integrity programs.
A laptop is required for this course.
Documentation
PDF files containing all presentation slides.
Textbook (eBook version): Fracture Mechanics: Fundamentals and Applications, 4th Edition (2017), by T.L. Anderson.
An Excel-VBA application that performs burst pressure calculations, rainflow analysis, and pressure cycle fatigue analysis.
Who should attend
Pipeline engineers
Designers and service professionals who are involved with the maintenance, inspection, and repair of pipelines.
Continuing Education Units
Upon completion of the course, participants will be eligible to receive1.4 CEUs.
Lecturer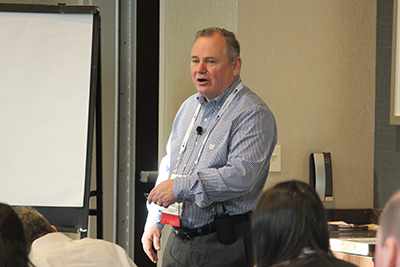 Dr. Ted Anderson is the author of a best-selling book on fracture mechanics, which has been adopted as a required text in over 150 universities. He recently returned to independent consulting after serving as Senior VP of Technology Development for Team Inc. and the Chief Technology Officer for Quest Integrity. He founded a consulting and software company in 1995, which was acquired by Quest Integrity in 2007. He holds a Ph.D. in Metallurgy from the Colorado School of Mines.
Topics that will be covered include:
Introduction and Overview
Cracks, notches and metal loss.
Common pipeline flaw types
ILI detection of crack-like anomalies
In-ditch inspection of crack-like anomalies
Driving force and resistance (toughness).
Linear Elastic Fracture Mechanics (LEFM)
Stress intensity factor (K)
Limitations of LEFM
Elastic-Plastic Fracture Mechanics
Crack tip opening displacement (CTOD)
J-Integral
Fracture toughness testing.
Relationship between Charpy energy and fracture toughness.
Pipeline Fracture Models
Log-Secant
CorLAS
API 579 failure assessment diagram (FAD)
PRCI MAT-8
Strengths and weaknesses of various models.
Pressure Cycle Fatigue Analysis
The Paris equation.
Variable-amplitude loading
Rainflow cycle counting
Equivalent cycles and the Cyclic Index
Special Topics
Probabilistic analysis.
Accounting for non-ideal crack profiles
In-Class Exercises with Excel VBA Application
Burst pressure calculations
Rainflow analysis
Pressure cycle fatigue analysis