Conferences
| | | |
| --- | --- | --- |
| COURSES | CONFERENCE | EXHIBITION |
| Feb 18-19 | Feb 20-22 | Feb 19-21 |
The industry's only forum devoted exclusively to pigging for maintenance and inspection, as well as pipeline integrity evaluation and repair, this event will draw engineering management and field operating personnel from both transmission and distribution companies concerned with improved operations and integrity management. Read more...
---

The Forum's principal aim is to allow pipeline operators and their suppliers to showcase novel solutions to difficult inspections in the spirit of helping others see and use creative and often not-so-obvious alternatives to "out-of-the box" approaches. Read more...
---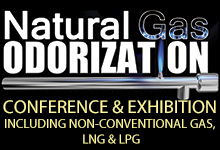 AUGUST 27-28, 2019
This two-day technical conference will cover all aspects of gas system odorization, from the basics to new technologies, system monitoring and measurement, formulations, case studies, practical application, troubleshooting, regulatory compliance, and legal/liability aspects. Read more...