Publications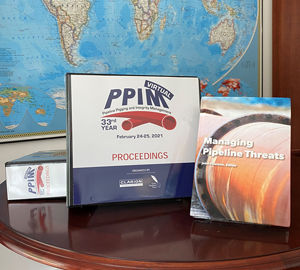 Now available for the first time, this two-volume eBook archive contains all technical papers published in the proceedings of the Pipeline Pigging & Integrity Management Conferences over the last decade. Comprising almost 400 whitepapers and more than 6,000 pages, each volume covers five years:
Volume 1, 2011-2015, 120 papers, 1,946 pages (eBook PDF)
Volume 2, 2016-2020, 257 papers, 4,184 pages (eBook PDF)
Order both volumes and we will include the recently published book Managing Pipeline Threats absolutely FREE. The book examines all the types of threats - from illegal tapping to corrosion, cracking, accidental third-party damage, geotechnical hazards and defective construction - and explains the methods and practices used to prevent or mitigate them. 2020, 470 pp. including hundreds of illustrations, photos and tables. Format is eBook (PDF).
---
An introduction to pipeline pigging
by the Pigging Products & Services Association
and Jim Cordell/Hershel Vanzant
Available as a print book and eBook (PDF)
Order both versions and save $10.00
---
Complete list of pipeline titles
Shipping costs for print books
USA (except AK HI): $12 for the first item, $5 for each additional item
Canada, AK, HI:  $25 for the first item, $15 for each additional item.
All other locations:  Shipping costs vary with destination. We will add actual shipping charges to your order. The average range of shipping charges outside North America is as follows:
1 book - $50 to $70
2 books - $60 to $100
3 books - $75 to $130