Conferences
Houston, Texas
Following the success of the Forums in 2011 and 2013, our 2015 Forum continues with the objective of addressing capabilities and guidance concerning tools for corrosion and mechanical damage inspection of 'unpiggable' oil, gas and hazardous liquids pipelines. Read more...
---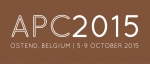 5-9 October, 2015, Ostend, Belgium
5-6 October, Training Courses
7-8 October, Conference
9 October, Additional lecture
---
This major multi-track conference will bring together experts from within and outside the region to discuss some of the latest technologies and concepts for maintaining and operating oil and gas pipelines in the most efficient, cost-effective, and professional manner, while taking account of the environmental and other concerns of the communities through which they pass. Read more...
Industry News
What people are saying
"The course covered the risk assessment approach in a very comprehensive way."
– Alex Izadpanah,
Advanced Pipeline Risk Management,
February 2015
"Pleasant, interactive, sincere and extremely knowledgeable are all qualities that help make an instructor good. Dr. Murray was great."
– Travis Hallam,
Pipeline Integrity Management,
February 2015
"The instructor was excellent. I like that he pushed us hard to maximize value."
– Olin Valby,
Pipeline Integrity Management,
February 2015