Conferences
---
February 8-11, 2016
PPIM 2016 will once again bring together engineering management and field operating personnel from both transmission and distribution pipeline companies concerned with improved operations and integrity management. Read more...
---
This major multi-track conference will bring together experts from within and outside the region to discuss some of the latest technologies and concepts for maintaining and operating oil and gas pipelines in the most efficient, cost-effective, and professional manner, while taking account of the environmental and other concerns of the communities through which they pass. Read more...
---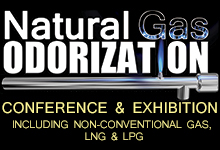 August 30-31, 2016
This two-day technical conference will cover all aspects of gas system odorization, from the basics to new technologies, system monitoring and measurement, formulations, case studies, practical application, troubleshooting, regulatory compliance, and legal/liability aspects. Read more...
Industry News